Yoshimaru and Rica Higa
2012.7.20
Thank you for your cooperation as always.
First let us tell you the words of God.
Words of God
Actions by all of you,
Myself and the power,
Genuine hearts of everyone,
All of them should be sustained.
Try to build a new world for you.
It will be a proof of our future.
Short Report of Our Divine Works
Yesterday I sent off my wife (Rica) at the Haneda International Airport.
After that, I went to visit the River of Fuji (Fujigawa) and the nuclear power plants at Hamaoka in Shizuoka. After taking a short nap at the parking lot, I am heading for the western parts of Japan by car.
By noon tomorrow, I am scheduled to reach Kyushu.
I am planning to visit Mt. Asoh.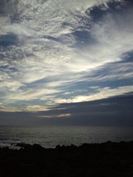 I am also planning to visit the nuclear power plants at Genkai (Saga Prefecture) and Sendai (Kagoshima Prefecture). They are all for praying.
Then I will go back to Okinawa.
After Okinawa, I will be going back to Kyushu and then move to Shikoku.
I will let you know more about it later.