Yoshimaru and Rica Higa
2012.7.10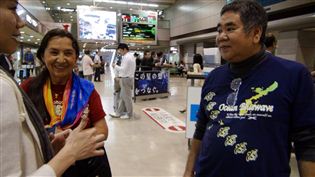 Let us report you what happened in our divine works in June.
Today we are telling you what happened in the beginning of June.
On June 5, Ms.Elizabeth Araujo arrived at Narita International Airport in Japan.
We were expecting Don Alejandro together with her but we were informed that he would reach Japan a bit later. So we moved to Okinawa together with Elizabeth. We got together with Elder Te Porohau from the Waitaha (New Zealand) in Okinawa.

On June 7, all of us prayed from the lookout point near our shrine at dawn. Though it was cloudy and we could not see the sunshine, we did continue our praying. Then we heard from Elder Te Porohau that we were with the Dragons of the Gold and the Jade.
 

After that, we moved to one of the caves guided by the revelation that reached Yoshimaru. This place was full of wild grasses and no one seemed to have visited the place for quite some time. It was wild all over and we walking through such a wild bush.

This cave is one of the sacred places in the east of Okinawa. It is the place where the shadow is to be turned into light. It is the place where the natural energy shows its power.
When we started to light the candle at the shiny side, Elizabeth told us to light the candle at the neighboring spot. We were lucky enough to find a limestone that symbolizes the feminine there. It was at the shadowy side.
When we lighted the spot where Elizabeth asked us to do so, Elizabeth told us that the place is welcoming us. Elder Te Porohau was talking with all kinds of spirits there.
When the balance between the Yin and the Yang is stabilized, we can see a better and more stable view of the future.
Since all of us woke up quite early in the morning, we finished our pilgrimage in the cave and moved to the sacred places at the back of our shrine.
In the afternoon, we were ready to move to Kobe (western side of the mainland of Japan).
----to be continued---