Yoshimaru and Rica Higa
2012.7.22

 
First, let us tell you the words of God of today
 
 Words of God
 
Whether you are forced to be carried away,
or whether you keeping walking your way,
depends upon you decision.
How you take which is better is up to your decision.
Where and how you look at is up to your choice.
I wish you to include many living beings and this star in the picture and vision you have.
 
Short Report on Our Divine Works
 
Yoshimaru Higa is heading for Sakurajima in Kyushu.
 
(Yoshimaru Higa)
The god at Mt. Asoh told me to pray at many places including Mt. Kirishima, Fugendake and Sakurajima.
I am planning to go and visit Hokkaido soon.
So I cannot do all the things that the God of Mt. Asoh told me to do.
I told him that I will visit many nuclear power plants all around and pray. He urged me to go and visit the God at Mt. Sakurajima. He said it is a must.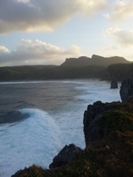 So I will go there and then move to the nuclear power plants at Sendai in Kagoshima. Then I will return back to Okinawa for a while.
We are planning to hold a joint prayer.
We will let you know about it soon.
Thank you.