Yoshimaru and Rica Higa
2011.10.7
We have summarized what Yoshimaru Higa talked to you from the foot of Mt. Fuji on October 4, 2011. The video is not ready yet, but soon we will arrange it for you to see.
What I Have Done So Far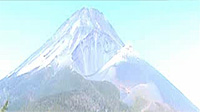 Good Morning. This is Yoshimaru Higa of the Taikoku Miroku Taisha.

On October 3, I moved from Irago at Atsumi Peninsula, Lake Hamanako, Tenryu River, the nuclear power plants at Hamaoka, Omaezaki (Shizuoka) and Fijigawa River. I wanted go as far as Irouzaki Promontory, southern tip of Izu Peninsula, but I couldn't make it due to the fatigue. Now I am at the foot of Mt. Fuji. Mt. Fuji seen from here looks like with a while smoke. It is the snow up there. The mountain seen at around the 6th stop to the top of Mt. Fuji is Mt. Houeizan.
I am uptight now because of many things told by revelations—natural disasters, earthquakes, confusions of the political and economic situations, infections and epidemics, etc. I have seen so many visions. We are at a critical moment now. I am doing my divine works under such a situation.
I am sorry for saying the same things over and over again. I repeat things many times. I am doing my best in my divine works that are meant to try to prevent those things told by revelations from actually happening. But sometimes, I feel weak. Sometimes, I feel that my divine works may be meaningless. I was grumbling and complaining from Tappi Promontory in Aomori up north. I was not complaining about the the God(or Gods) and the spirits. I was just thinking about myself. I was wondering whether my divine works are really meaningful or not. Sometimes I tend to lose my convictions.
Fukushima Now and the Radiation
In Fukushima, the radioactive dusts are all over due to the accidents at the nuclear power plants at Fukushima Daiichi. Many speculations and interests are all around there. The Government, local government, business firms and those who are concerned with the nuclear power plants and the nuclear industry are all inter-related.
This time I received an important report on the contamination by irradiation and radiation. We measured the reality of the radiation in Hokkaido, Niigata and other areas concerned with agricultural products. We did this with the helps and donations from our members supporters. The result of the survey was that the contamination there is just about the same as that in Tokyo. It may not be appropriate to say that I am relieved to hear it. But it is true that I was saved by hearing that the contamination was not as bad as I predicted.
But, I was told by revelations this.
"Do not feel safe and at ease just by these data and statistics".
"These data differ from day to day depending upon the weather conditions. The wind and the rain will change the measurements of contamination. What you should do is to think how to face with the irradiation, radiation and the radioactive substances".
We have to think about how to protect the lives and the properties of the people now. But the Government, the politicians and business firms are being influenced and manipulated by various many speculations and interests. So I suspect one thing.
Do they or do we really understand the serious situation where the contamination by radiation is prevailing?
Can we say that we are safe?
Can we guarantee the safety of our children, youngsters and other people?
Can we say that the minds and bodies of the people are safe?
The revelations tell me that there is a great possibility that all of us will face a worse situation. We may face a dreadful situation. Then our lives will be at stake.
Half a year passed since the big disaster.
People seem to be forgetting the crisis. People seem to be getting numb about the real danger that is coming to us. People seem to be getting numb about their responsibility of seeing and facing the reality. People seem to be getting numb about the danger of the radiation.
Our Children Are the Real Treasures for Us and We Have to Educate Them
If we are to leave this world for our children and the babies that are to be born, I guess that we will have to leave them our properties for their future. It is very important for us to leave good natural environments, good political and economic situations, and all the living beings on this Earth for our children.

We have to learn from what has happened to us. And we have to tell about them to our children. We have to do this to leave them good properties, good natural environments and good living beings. We have to tell them how to build a new world where our children can live peaceful in harmony.
We cannot help our children change the world by depending on our God and Gods alone.
We cannot help our children change the world by asking the politicians and the businessmen alone.
It is us who have to do this. All the parents should educate their children. They should tell their children the truth. And their children, by learning all of them, can build a new world with their own new values and capabilities. Our children are our treasures. They can build a new world for themselves. They can make this Earth a better place to live. And they can unite the whole world as one.
We can get back what have destroyed in the natural environments. There are people who say that it is impossible to do it. But it is possible. We can take it back.
The most important thing is to educate our children. It is the basics. We have to leave them our properties. Then they will be able to protect themselves, the Earth and all the living creatures.
What are the real treasures?
They are the lives of our children and all other living beings, the oceans, the mountains, the fields, the rivers, the air and the Mother Earth itself. These natural environments are the real treasures.
There Are People Who Still Want to Re-start the Nuclear Power Plants
No matter how hard we may pray, there are people who are not seriously worrying about the consequences of the accidents at the nuclear power plants. There are people who prioritize money and things(materials) than human lives. They try to hide the true danger.
There are people who are pushing the nuclear industry to go forward. There are people who want to re-start the operations of many nuclear power plants. Politicians, businessmen and others are all manipulated.
This is not everything.
In the spiritual world, there are other kinds of people.
There are people who say this.
"Never stop the world of the light. Never stop the ascension of the world of love.
Never go against the natural moves of the Earth. There is a great possibility of another major accident and disaster. The 3rd World War is God's will and love. Everything is the light".
I am being slandered by these kinds of people.
It is perfectly all right that each person has his/her opinion and view.
They say this.
"It is the great love from the Motherly land that many people die and lose their lives and the children thrown into dangers".
We Humans Are Given the Wisdom and the Capability to Change the World
Their slander against me is outrageous.
The Motherly land and the Heavenly Father have given us humans the life and the Earth. It is why the Heavenly Father has given us humans the capability to create things and it is why the Motherly land has given us humans the capability to care for the lives of all the people. The Earth is alive. So it causes many big earthquakes, typhoons, eruptions and other natural changes. It is why we humans are given all these capabilities. It is why we humans are given the responsibility of protecting all the living beings on the Earth.
I have been always told this by revelations.
"It is not true that most of the living beings will die when the Earth is reborn. We (the Gods) gave you the wisdom and power to act. So you should leave something very important for your next generations".
It is why I am praying so hard and so seriously.
Some people say that all my stories are pessimistic. I do not foretell natural disasters. I am just telling people what may happen. I am asking people to pray to prevent such natural disasters. I am telling about the revelations I receive to make them realize that they are the ones who can build and create a new future. It is why I am telling them all about the visions I am seeing. Praying is effective and has a great power. But eventually, it is the thinking and the action of each individual that can change the world.
All I am telling is what can happen in the future. And I am telling that it will be too late to realize them after they happen. We have to do something before they happen. We have to act before they happen. We humans are given a special capability that other animals do not have. The God has given us this capability to make us build such a good future. The God has given us the wisdoms and the bodies to do so. When we realize that the God is asking us to take care of the Earth, we should do so and we can protect and keep all the living lives for our next generations.
Unite As One and Pray Together
It is my hope that all of you will unite as one and pray together and try to build a new future. It is no good for us to destroy the important Earth. We, as children of the God, the nature and as living beings, can act and do important things one by one.
We have our minds and bodies. We are living on this Earth. We can experience the feelings of joy, anger, happiness and sorrow. We are living in a realistic world of two opposite poles. Then we can go to the world of the light. We can be reborn in a real sense. So we have to find things we should do. We have to think and do what are good for our children. In a future world, we do not need nuclear power plants. If we re-establish the political and economic systems, we can do so with a new idea. It is an evolution.
For that, we have to have a new mind and way of thinking. I hope that you understand what I am saying. And I hope that you can do all this.
Now let me tell you about the nature and its development.
We have the Pacific Ocean plate and the Philippines plate. We can see earthquakes on these plates. We have the East Japan Volcanic Belt and the West Japan Volcanic Belt including the central tectonic line. We can see earthquakes on these volcanic belts. And we can see earthquakes by active faults, eruptions and others.
I do not want any disaster that is bigger than that happened on March 11 this year will happen again. For that, we have to keep praying. I need your help and assistance.
Now I am hearing the big noise and sound of cannons. They may be military exercises of the Self Defense Forces of Japan in the area of the foot of Mt. Fuji. This is a huge area for military exercises at the foot of Mt. Fuji and the SDF of Japan and the military forces of the United States are preparing for war at this place.
If we start thinking what to do, we can build a new world. And we can have a better future. We can protect ourselves, our children and other people. It is very important to educate our children to create a new future.
Well, it has been a long story to tell you.
Now we have prayed together.
I have been moving all around Japan for the last few months. Now we are going to visit Guatemala in Central America for a while.
When we return back to Japan, I will continue my trip for prayer all around Japan.
I will keep praying to prevent undesirable happenings such as natural disasters, confusion of the political and economic situations, infections and epidemics and others.
Prayers cannot stop everything, but they can help. I will do my best and I will keep telling you about the revelations. I will keep sending you information. I hope that it will help you upgrade your minds and ways of thinking.
I am asking you for your continuing assistance and cooperation.
Thank you.